Business Leaders Need to Promote the New Booster Shots (Video & Podcast)
7

min read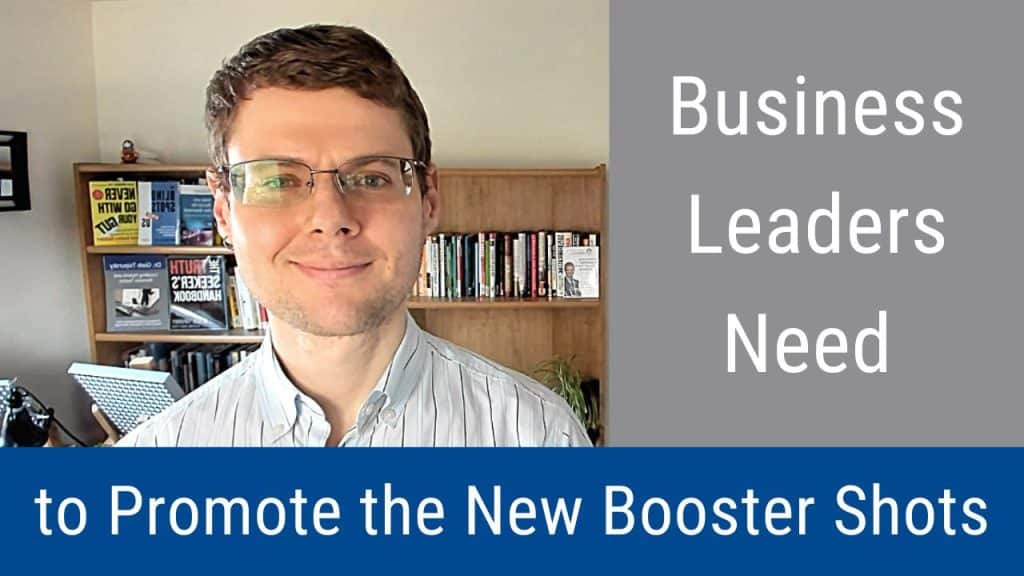 As the efficacy of older vaccines gradually fades, leaders should promote the newly-updated booster shots. This will aid companies in reducing sick days, minimizing PR fiascos, and facilitating stakeholder capitalism. That's the key take-away message of this episode of the Wise Decision Maker Show, which describes why business leaders need to promote the new booster shots.
Video: "Business Leaders Need to Promote the New Booster Shots"
Podcast: "Business Leaders Need to Promote the New Booster Shots"
Links Mentioned in Videocast and Podcast
Transcript
Hello, everyone, and welcome to another episode of the wise decision makers show where we help you make the wisest and most profitable decisions. And today, we'll talk about the wisest and most profitable decisions about the new bivalent boosters, and how executives are free, they need to promote these new lead updated booster shots, because that's an opportunity for leaders to persuade employees to actually make good decisions. And they should advocate for this cause publicly to help the businesses improve their bottom line. And we'll talk about why and protect them because they protect employees against the new Omicron sub variants ahead of the surge, which we are already experiencing this winter. And we might experience a worst surge, and also serious complications that researchers are showing are associated with along COVID. So let's talk about that. Why promote the new booster shots? It's actually good for companies and good for leaders, it will decrease employee sick days, so less sick days, it will reduce super spreader events from COVID from employees who come to the office and have various problems. And it helps minimize the PR problems that are associated with such activities, the super spreader events. Also, my focus right now I'm helping 12 companies already returned to the office figure out the future of work arrangements. And we're seeing that employees aren't afraid to return to the office because of COVID. So promoting the Omicron specifically by villain boosters helps reduce employee fears. And it improves employee trust in the leadership to do so. And finally, it serves the interests of all stakeholders not simply within the company, but outside the company as well as part of stakeholder capitalism. Now, let's talk about the new booster shots. We know the research shows they're very effective, they're effective against Omicron. And the original COVID strain alikes are both strains. That's why they're called by Vaillant, they're safe, and they're more effective than the previous vaccines overall. And getting the Bible and booster is for everyone who is 12 years and older, that are widely available. The US federal government purchased them for everyone. They're affordable, therefore, so you can get them for free. So no cost. And there, this is a good time to buy a velum booster. There is no bad time. So according to Rochelle walensky, who is the Director of the CDC, there is no bad time to get your COVID 19 booster shot, and she strongly encourages everyone to receive it. Unfortunately, there are some challenges with getting people to accept the COVID booster shots because people have some vaccine hesitancy still experiencing that. And they don't know about these vaccines bivalent boosters. So we see from studies that there's a low intent to give the shot, half of all respondents heard a lot or some about the new booster. So half didn't even hear that less than a third intend to give the new booster. According to a Kaiser Family Foundation COVID vaccine monitor study 65% of Americans believe that it's a good time to return to normal, but it's safe. And that's not a good idea, despite the serious risk of contracting the virus. So which can cause a lot of problems. And according to an Ipsos poll, some people are afraid of it. But most people believe that going back to normal is completely safe. Not a good idea. The updated boosters can truly be a game changer, because we can see as we're seeing already this winter, and we can see more of a COVID winter surge there are new variants like the SBB 1.5 that are coming up that could more than quadruple the current infection rate, according to projections from the University of Washington. So the new booster that we have right now offers the best possible protection against infection from a projected COVID Wave. Another problem that we're having it's not only the new variants, but also the old vaccines whose effectiveness is waning. So that's a serious problem that we need to deal with the original vaccines effectiveness weigh ins after four months, according to a CDC study. So effectiveness against hospitalization decreases. So from 71% Right after we get the shot to 58% after four months, so it's a significant decrease. And it continues to fall off after that. So this suggests the need for additional boosters to restore the protection that wanes from the original vaccines. Now, we know the boosters restore the effectiveness, an extra dose continues to protect against hospitalization. So according to a CDC study, those who received the original two doses and then booster of the original one got immediate protection of 91% against hospitalization, which falls to 470-8% after four months, so it's still better than the immediate protection offered just by the two shots of the original vaccine. And of course, that's even better for the new bivalent booster. Now, the new booster shots are especially valuable for staff who are at higher risks of serious symptoms from COVID-19, which of course tends to be people who are older, the most experienced ones, the senior staff, as well as immunocompromised workers. So new boosters can reduce their vulnerability. Another issue that we want to address is long COVID. So one in 13 adults in the US have long COVID symptoms. According to a CDC study. 23% of those who are infected with COVID are likely to get long COVID symptoms, according to a study from the University of Southern California, and long COVID It's another serious reason to get booster shots. Because you get fatigue, you get brain fog, which can last weeks, months or longer. I got COVID and it took me a week or so to get over it. But my wife got COVID. And it took her over a month to get over COVID. So that's and we had the bivalent boosters imagine how bad it would be if we didn't have the backbone boosters. There's also other risks like sudden heart failure or stroke, including and healthy young people, it's a serious issue. New boosters can reduce the likelihood of developing long COVID. Now, businesses can face a lot of talent challenges with workers. Because of long covid, it's worsening the labor shortage 22% of those who had long COVID are unable to work. Another 45% needed reduced hours, according to a study in The Lancet. So that's a serious blow to companies. Overall, two to 4 million are out of work due to long COVID in the US. According to a report from the Brookings Institution, that's a serious number. Unfortunately, employers are not doing nearly enough to promote the new booster shots, despite the problems from the COVID winter surge for their staff. For example, we've seen examples of recent COVID outbreaks at major employers that mandated returns to the office like Google CalPERS, and so on. And so leaders by failing to take action are falling into what's called the admission bias, which is a cognitive block bias that reduces the perception that not taking an action is not problematic. So they're reducing the perception of the problematic nature of inaction. You're downplaying the costs of inaction. But you're not taking the action to promote the boosters whereas it's actually a serious, serious issue, to not take the action that's needed. Suddenly, there's actually going in the opposite direction rather than encouraging COVID mitigation. They're rolling back vaccine mandates because they want staff back to the office like Goldman Sachs. That's a very bad idea. So let's talk about the benefits of promoting the new boosters. Number one is reducing sick days, when workers are less likely to take sick leave, reducing working hours and withdrawal from the labor force, then avoiding bad publicity. You'll minimize the PR fiascos, you'll minimize COVID outbreaks. And even if you do have COVID outbreaks and bad PR, my clients and I helped a number of clients transition to hybrid work. They're finding that if they do promote the news bivalent boosters, that reduces the negative publicity associated with the COVID outbreaks because they can say, Well, we did everything we could. Then you're addressing return to Office resistance, so employees fear returning to the office. According to an Ipsos survey 57% were worried about COVID in the office. And so my firm disaster avoidance experts surveyed a fortune 5500 SAS company which found that 64% of employees are concerned about COVID in the office. So promoting the new boosters we found in that survey, reduced employee fears, and so they are less likely to resist returning to the office. Next, stakeholder capitalism, so serving the interests of all stakeholders, that's called stakeholder capitalism. And according to the Business Roundtable statement of top CEOs, this defines a new purpose of companies including supporting the communities in which they work, taking into account the needs of all stakeholders, and thus reducing COVID serves these broader community health concerns. And finally, you're earning employee trust. So people trust businesses more than the government. So the Edelman Trust Barometer shows that 86% of respondents expect CEOs to speak out on public issues like pandemic impact. And these expectations require leaders to be trustworthy examples. So by advocating for new boosters, they can do so. Now, let's talk about behavioral science approaches to promote the new book. As COVID is transitioning to the endemic phase mandates are really not the right way to go seeing some mandates. That's not what I'm talking about the effect of approaches, so the effect approaches to increasing booster uptake. You want to create appropriate norms, ones that would help encourage all employees to actually get boosters. And you want to have some interventions that are informed by nudges. So, small decision making influences employees to help employees make the right decisions. Now, let's talk about the norms. What does it mean to create appropriate norms? That means that you need to lead by example. So leaders need to lead by example, whether they lead a horrible whole organization or a team, you want to lead by example, publicly advocate the cause publicly advocate boosters of course, get the shot yourself be a model. So be a role model in both speaking about it and taking the actions themselves. So doing the actual thing, getting a booster shot publicly, so get yourself film photographed doing so give you an example of my client who educate employees about the benefits of byli valen boosters Flow Newsletter, showing the CEO herself getting the jab getting the booster, so photograph and description from the CEO of a statement about her experience getting the booster and encouraging discussions on boosters among teams, encouraging people to leaders, lower level leaders ranked in the middle and lower level managers to discuss getting the buy valen booster. Also, she invited an epidemiologist to give a talk to address staff concerns about getting the booster. What about nudging employees to get the shot, let's talk about that same client who suddenly changed employees by offering paid time off to get the shot. So reducing barriers by offering paid time off, giving a sick leave for side effects. So if you have side effects, you can get sick leave, that's not a problem at all. And then a price, an actual price of pain , we can get away with. So yeah, for an inter team competition. So competition based price for the first three teams to have their members get the shots, they get a paid weekend getaway, and also a lottery for the first five employees to get the shots. So getting the boosters within the first three months but becoming available, there was a lottery for that. So you're both a team based competition based approach where teams compete against each other for all team members to get the booster. And you have a lottery for individuals where individuals can be empowered to get the booster themselves. So that's a very good approach because it combines everything and hits everyone. And so that's what I want to share about how business leaders need to promote getting the new booster shots. I hope you found this episode of the wise decision maker show valuable to you. Please make sure to subscribe wherever you check out this podcast and make sure to leave a review. It really helps us improve the show and that helps other people discover the show. And there is going to be much more information about the bivalent booster in the show notes. So check those out. And please send me an email. My name is Dr. Gleb Tsipursky and my email is Gleb at disaster avoidance experts that com. Disaster avoidance experts is the future of work consultancy that sponsors the wise decision maker show and my email there is Gleb at disaster avoidance experts.com I read every email that I get. Alright everyone. I hope you've benefited from this episode of the wise decision maker show. And I will look forward to seeing in the next episode of the wise decision maker show. In the meantime, the wisest most profitable, profitable decisions to you, my friends.
Transcribed by https://otter.ai 
---
Bio: Dr. Gleb Tsipursky helps leaders use hybrid work to improve retention and productivity while cutting costs. He serves as the CEO of the boutique future-of-work consultancy Disaster Avoidance Experts, which helps organizations adopt a hybrid-first culture, instead of incrementally improving on the traditional office-centric culture. A best-selling author of 7 books, he is especially well-known for his global best-sellers Never Go With Your Gut: How Pioneering Leaders Make the Best Decisions and Avoid Business Disasters (Career Press, 2019) and The Blindspots Between Us: How to Overcome Unconscious Cognitive Bias and Build Better Relationships (New Harbinger, 2020). His newest book is Leading Hybrid and Remote Teams: A Manual on Benchmarking to Best Practices for Competitive Advantage (Intentional Insights, 2021). His writing was translated into Chinese, Korean, German, Russian, Polish, Spanish, French, and other languages. His cutting-edge thought leadership was featured in over 650 articles and 550 interviews in prominent venues. They include Harvard Business Review, Fortune, Inc. Magazine, Business Insider, Fast Company, Forbes, and elsewhere. His expertise comes from over 20 years of consulting, coaching, and speaking and training for mid-size and large organizations ranging from Aflac to Xerox. It also comes from his research background as a behavioral scientist. After spending 8 years getting a PhD and lecturing at the University of North Carolina at Chapel Hill, he served for 7 years as a professor at the Ohio State University's Decision Sciences Collaborative and History Department. A proud Ukrainian American, Dr. Gleb lives in Columbus, Ohio (Go Bucks!). In his free time, he makes sure to spend abundant quality time with his wife to avoid his personal life turning into a disaster. Contact him at Gleb[at]DisasterAvoidanceExperts[dot]com, follow him on LinkedIn @dr-gleb-tsipursky, Twitter @gleb_tsipursky, Instagram @dr_gleb_tsipursky, Facebook @DrGlebTsipursky, Medium @dr_gleb_tsipursky, YouTube, and RSS, and get a free copy of the Assessment on Dangerous Judgment Errors in the Workplace by signing up for the free Wise Decision Maker Course at https://disasteravoidanceexperts.com/newsletter/.