You can trust our cutting-edge, evidence-based expertise to drive collaboration, innovation, and retention in hybrid work.
Our proprietary methodology was developed by our Founder and CEO Dr. Gleb Tsipursky. It's based on his research background studying future-proofing, decision-making, and cognitive bias risk management in the future of work at the intersection of behavioral economics and cognitive neuroscience. With over 15 years in academia, including 7 years as a professor at the Ohio State University, he published dozens of peer-reviewed articles in academic journals such as Behavior and Social Issues and Journal of Social and Political Psychology. The methodology also stems from Dr. Tsipursky's more than 20 years of consulting and training on future-proofing, decision-making, and cognitive bias risk management in the future of work. His hundreds of clients include innovative startups, major nonprofits, and Fortune 500 companies from Aflac to Xerox. 
Our cutting-edge expertise was featured in over 650 articles and 550 interviews in prominent venues. These include Harvard Business Review, Fortune, USA Today, Inc. Magazine, CBS News, Time, Business Insider, Fast Company, CNBC, and many others.
Our expertise in future-proofing, decision-making, and cognitive bias risk management in the future of work is informed by several best-selling books written by Dr. Tsipursky, including Leading Hybrid and Remote Teams: A Manual on Benchmarking to Best Practices for Competitive Advantage (Intentional Insights Press, 2021), The Blindspots Between Us: How to Overcome Unconscious Cognitive Bias and Build Better Relationships (New Harbinger, 2020), and Never Go With Your Gut: How Pioneering Leaders Make the Best Decisions and Avoid Business Disasters (Career Press, 2019). His writing was translated into Chinese, Spanish, French, Korean, Russian, Polish, German, and other languages.
Are you a tech or insurance executive who wants to drive collaboration, innovation, and retention in hybrid work?
Let's talk about whether our expertise offers an excellent match for your needs: contact us.
You will be recognized as a leader in hybrid work with the insightful guidance of our expert consultants.
Your attendees will experience their most profound "Aha!" moment when you bring in the cutting-edge expertise and highly engaging style of our speakers.
"Gleb Tsipursky came to my attention sometime during the pandemic when I was planning to have our research institute follow the standard path that all the big corporations were following. Apple and Google were announcing plans to have people come back three days a week, I thought that seemed like a good plan. ... I saw a video that Gleb gave at IEEE [the Institute of Electrical and Electronics Engineers] that really actually changed my mind about this. It was a video about hybrid work and how important it was to actually embrace it. One of the things I was impressed by was all these interesting ideas about how to make hybrid work more effective. So I signed up for a meeting with Gleb and I learned quite a bit more about how to do hybrid work well. Gleb has come on as a consultant for the Information Sciences Institute and has been really helpful in terms of putting us much more in a leadership position in terms of figuring out how to do hybrid work. We changed our policies, we are much more flexible about who can work at home and allowing people to work from home whenever it makes sense with respect to their supervisor. We are adapting people's home offices and our office spaces and figuring out how to onboard people in a way that is more effective when people haven't met in person. I think he's been incredibly helpful in terms of really transitioning us to lead in how we manage hybrid work at the institute."
---
Dr. Craig Knoblock, Keston Executive Director of the Information Sciences Institute at University of Southern California
"EWI is an engineering services consulting firm. We contacted Gleb to acquire some insights in how to motivate scientific people to 'sell' themselves – a constant challenge of the business. Gleb used his researched-based approach to behavioral psychology to engage us in a conversation that provided several very helpful insights into how we communicate with our people. We were using far too much business-speak that was not connecting emotionally with our people. For example we have stopped using the word 'brand' and now use the word reputation – which resonates with scientists. So I have to say that one of the things Gleb said to me – I am not an engineer and have never been an engineer – but I work in human resources. And he started talking to me about emotions. My first response was: "engineers have emotions?" And he went on to teach me that engineers – scientists – although they like to think of themselves as rational animals, still are primarily driven like the rest of us by emotional thinking and emotional responses to language. Gleb has been an unexpected and practical resource for us."
---
Mark Matson, Vice President of Human Resources at EWI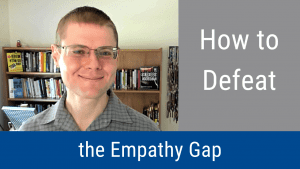 Leaders need to address the emotions of employees first and foremost in order to overcome the empathy gap through emotional and social intelligence. That's the key take-away message of this episode of the Wise Decision Maker Show, which describes how to defeat the empathy gap.
Read More
Your Free Assessment & Video Course
Do you want to make the best decisions in the future of work? Take your FREE Assessment on Dangerous Judgment Errors and get your FREE access to the video-based Wise Decision Maker Course.