"Gleb has come on as a consultant and has been really helpful in terms of putting us much more in a leadership position in terms of figuring out how to do hybrid work. We changed our policies, we are much more flexible about who can work at home and allowing people to work from home whenever it makes sense with respect to their supervisor. ... He's been incredibly helpful in terms of really transitioning us to lead in how we manage hybrid work at the institute."
---
Dr. Craig Knoblock, Keston Executive Director of the Information Sciences Institute at University of Southern California
"We've had the great pleasure of working with Gleb. He's been wonderful to work with, easy to communicate with. He helped us to work within our budgetary limitations and was very effective in his presentation. Gleb is very relatable. He communicated in a very clear and easy to understand way, very clear key takeaways that people could utilize in their personal life and as well as the campuses that they are supporting."
---
Zenobia Hargust, the Director of Equal Opportunity and Engagement at Swarthmore College
"Gleb worked with us collaboratively during the whole process before the day of the event to get feedback on what's important in HR and on all areas of success and pitfalls. He presented what was important to the audience, making the event great. The presentation that he gave had a great impact on the audience because it brought real experiences to their mind, giving them takeaways that they can go back and implement back in their everyday lives in HR."
---
Robyn Salvo, Director of Human Resources at Monmouth University
"Dr. Gleb had a big positive impact at Applied Materials. Our leaders and engineers love data-based, research-based insights, which is exactly what he brings. He hit it out of the park, and he used a team led process, which was incredibly engaging. He introduced us to a concept he created called asynchronous brainstorming. It was a process we used with hundreds and hundreds of leaders globally at the same time. We did this during our CEO kickoff session for our strategy work. In a very short amount of time, we were able to get great benefits. I also love the work he's doing to educate leaders around the power and positive benefits of hybrid and virtual working. And one of his techniques that I'm planning to use is what he calls "virtual coworking", where you and as many coworkers as you'd like create a virtual meeting, no purpose or agenda, but rather just to be working with one another. I highly endorse Dr. Gleb's work with leadership teams."
---
Susan J. Schmitt Winchester, Chief Human Resources Officer at Applied Materials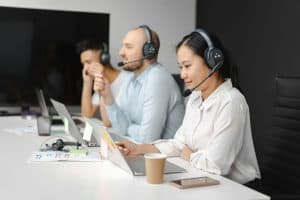 In a tight labor market, healthcare organizations must find ways to stand out and attract top talent, and allowing staff to complete some their work from home results in a clear boost to retention and recruitment, while increasing productivity and engagement.
Read More