Do you want to drive collaboration, innovation, and retention in hybrid work?
We help tech and insurance executives like you adopt a hybrid-first culture, instead of incrementally improving on the traditional office-centric culture.
Your customized solution will draw on our

cutting-edge expertise

featured in over 650 articles and 550 interviews in venues such as Harvard Business Review, Fortune, Inc Magazine, and

many others

.
"Gleb Tsipursky came to my attention sometime during the pandemic when I was planning to have our research institute follow the standard path that all the big corporations were following. Apple and Google were announcing plans to have people come back three days a week, I thought that seemed like a good plan. So we actually sent out a message saying that everyone would be going back to the office three days a week and working home two days a week. And then I saw a video that Gleb gave at IEEE [the Institute of Electrical and Electronics Engineers] that really actually changed my mind about this. It was a video about hybrid work and how important it was to actually embrace it. One of the things I was impressed by was all these interesting ideas about how to make hybrid work more effective. So I signed up for a meeting with Gleb and I learned quite a bit more about how to do hybrid work well. Gleb has come on as a consultant for the Information Sciences Institute and has been really helpful in terms of putting us much more in a leadership position in terms of figuring out how to do hybrid work. We changed our policies, we are much more flexible about who can work at home and allowing people to work from home whenever it makes sense with respect to their supervisor. We are adapting people's home offices and our office spaces and figuring out how to onboard people in a way that is more effective when people haven't met in person. I think he's been incredibly helpful in terms of really transitioning us to lead in how we manage hybrid work at the institute. All of Gleb's advice has been incredibly useful, and I appreciate all the help he's given us with respect to moving forward with our hybrid work plans."
---
Dr. Craig Knoblock, Keston Executive Director of the Information Sciences Institute at University of Southern California
"Dr. Gleb's presentation at our virtual webinar was powerful! He was prepared, passionate, and engaged our audience. He was happy to go through our logistics and prep sessions to make sure that everyone was comfortable. If you want a true professional I would strongly recommend Dr. Gleb for your future engagements."
---
Jherica Rhodes, Coordinator of Learning Programs, Meeting Professionals International
"I really like your coaching style. You ask meaningful questions without 'leading the witness.' It's a great fit for executives."
---
Cheryl Smith, Global Director of Talent Management, Organizational Capabilities, and Diversity at Xerox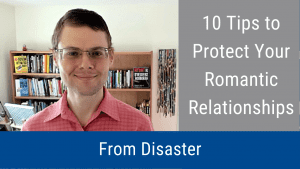 Relationships require work and maintenance, much like any other important facet of our lives. Open, respectful, and supportive attitudes towards one another from the very start will go a long way in helping you build a lasting relationship. That's the key take-away message of this episode of the Wise Decision Maker Show, which describes 10 tips to protect your romantic relationships from disaster.
Read More