Are you a leader who wants to use hybrid work to improve retention and productivity while cutting costs?
Our customized solutions will help you gain a competitive advantage in the future of work.
Contact us today for a free consultation.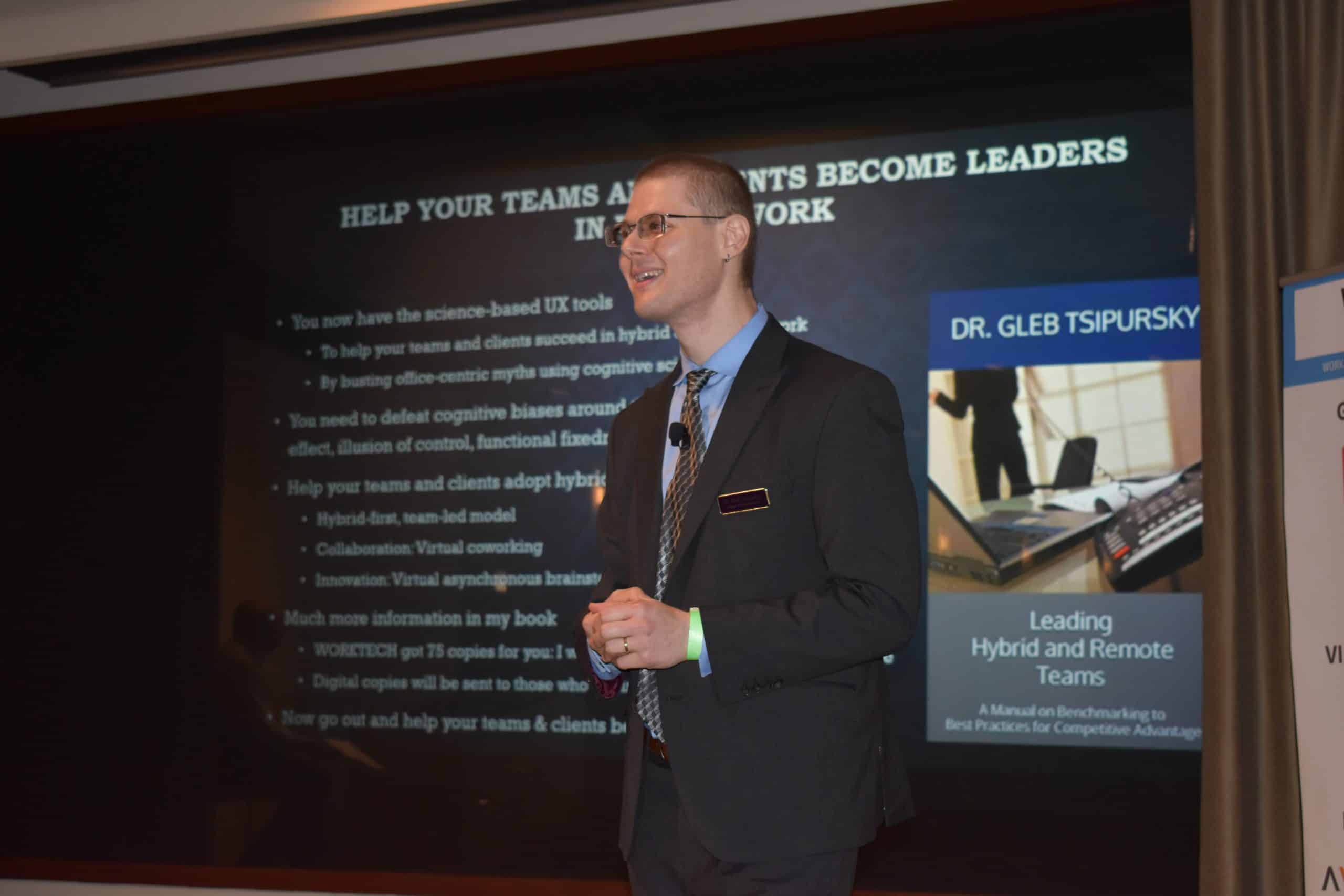 "Gleb Tsipursky came to my attention sometime during the pandemic when I was planning to have our research institute follow the standard path that all the big corporations were following. Apple and Google were announcing plans to have people come back three days a week, I thought that seemed like a good plan. ... I saw a video that Gleb gave at IEEE [the Institute of Electrical and Electronics Engineers] that really actually changed my mind about this. It was a video about hybrid work and how important it was to actually embrace it. One of the things I was impressed by was all these interesting ideas about how to make hybrid work more effective. So I signed up for a meeting with Gleb and I learned quite a bit more about how to do hybrid work well. Gleb has come on as a consultant for the Information Sciences Institute and has been really helpful in terms of putting us much more in a leadership position in terms of figuring out how to do hybrid work. We changed our policies, we are much more flexible about who can work at home and allowing people to work from home whenever it makes sense with respect to their supervisor. We are adapting people's home offices and our office spaces and figuring out how to onboard people in a way that is more effective when people haven't met in person. I think he's been incredibly helpful in terms of really transitioning us to lead in how we manage hybrid work at the institute."
---
Dr. Craig Knoblock, Keston Executive Director of the Information Sciences Institute at University of Southern California
"Dr. Gleb had a big positive impact at Applied Materials. Our leaders and engineers love data-based, research-based insights, which is exactly what he brings. He hit it out of the park, and he used a team led process, which was incredibly engaging. He introduced us to a concept he created called asynchronous brainstorming. It was a process we used with hundreds and hundreds of leaders globally at the same time. We did this during our CEO kickoff session for our strategy work. In a very short amount of time, we were able to get great benefits. I also love the work he's doing to educate leaders around the power and positive benefits of hybrid and virtual working. And one of his techniques that I'm planning to use is what he calls "virtual coworking", where you and as many coworkers as you'd like create a virtual meeting, no purpose or agenda, but rather just to be working with one another. I highly endorse Dr. Gleb's work with leadership teams."
---
Susan J. Schmitt Winchester, Chief Human Resources Officer at Applied Materials
Core Competencies in Hybrid Work
We help tech and insurance executives drive collaboration, innovation, and retention in hybrid work by adopting a hybrid-first culture, instead of incrementally improving on the traditional office-centric culture.
For a deeper dive into each of our core competencies, read these articles about our work published by our CEO in top venues.
Book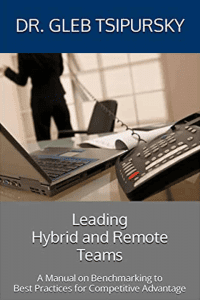 Our book, Leading Hybrid and Remote Teams: A Manual on Benchmarking to Best Practices for Competitive Advantage, offers case studies and best practices that will help you become recognized as a leader in hybrid work.
It relies on interviews done by our CEO, who authored the book, with 47 mid-level and 14 senior leaders in 12 companies that he advised on returning to the office and leading hybrid and remote teams after the pandemic. It also draws upon extensive peer-reviewed and survey research on hybrid and remote work, and case studies from prominent companies.
Case Study
Hybrid and Remote Work Transition for Fortune 500 High-Tech Manufacturing Company
Situation
The company was struggling to figure out its back-to-office strategy and new styles of hybrid and remote collaboration in the post-pandemic world.
Intervention
Before DAE's intervention, the company intended to be mostly office-centric, with all employees spending 4 or more days in the office. DAE conveyed external research and did internal surveys that convinced the leadership such policies would harm retention, recruitment, productivity, innovation, and engagement. Instead, DAE offered the best practice of a team-led approach to hybrid and remote work, meaning each team leader determined what worked best for their team. After the company adopted this policy, DAE identified four critical areas where the company required assistance in the form of best practices for adapting its leadership style to the hybrid and remote future of work: day-to-day management of staff, improving hybrid meeting experience, and facilitating innovation in hybrid and remote teams through virtual asynchronous brainstorming. DAE then supported the company in getting buy-in across the 400-people global leadership team for these policies, experimenting with and adapting them to the needs of the different business units, and providing advice on the change management required to implement these policies.
Impact
22% improvement in retention over 12 months
29% increase in recruitment referrals from current employees
14% improvement in productivity during the time hybrid and fully remote employees worked remotely
27% improvement in employee satisfaction overall
43% increase in satisfaction with hybrid and remote work policy in particular
59% increase in satisfaction with hybrid meetings
26% improvement in number of innovative ideas