Redefining Leadership for the Hybrid Work Era: The Neuroscience of Connection and Performance
3

min read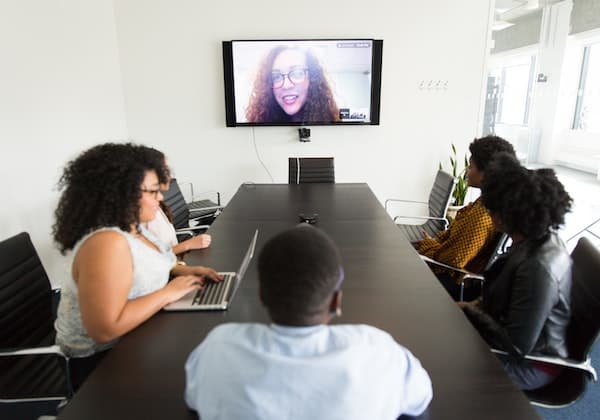 The post-pandemic era presents a golden opportunity for a workplace revolution, one that embraces the benefits of hybrid and remote work, strengthens human connections, and mitigates the negative impacts of proximity bias. Let's delve into the strategies and techniques that can help leaders and organizations thrive in the new hybrid reality, based on my interview with Matt Summers, Global VP of Leadership at the NeuroLeadership Institute.
Building In-Groups and Embracing Human Connection
In the hybrid workplace, Summers argued that our brains crave certainty and human connection more than ever before. Leaders must capitalize on this craving to build greater in-groups, fostering stronger bonds between employees regardless of their physical location. By focusing on establishing emotional, cognitive, and behavioral empathy, leaders can create a more inclusive environment that values every employee equally.
One approach to achieving this, according to Summers, is by finding common ground with each team member. Share personal stories and interests to forge connections that transcend the digital divide. This builds an unconscious in-group bias that can counteract distance bias and activate collaborative circuitry in the brain.
Future-Proofing Skill Sets and Managing Distance Bias
As we navigate the ever-changing landscape of hybrid work, employees and leaders alike must future-proof their skill sets and actively manage the distance bias gap. The challenge lies in mitigating the unconscious in-group and out-group biases that arise from geographical distance or differing project stages.
One way to address this is by establishing equitable processes where employees feel valued regardless of their physical location. For instance, if one team member cannot be on camera, consider having everyone turn off their cameras to promote a sense of fairness and unity.
Hybrid workplaces allow for quicker and more efficient decision-making by using technology to bridge physical gaps. When leveraged effectively, tools such as artificial intelligence and digital collaboration platforms can streamline communication and decision-making processes, leading to higher-quality results.
Remember, as the great playwright William Shakespeare once said, "All the world's a stage, and all the men and women merely players." In the hybrid workplace, we are all players in the grand production of remote work. Let's make it a hit by mastering our roles, forging connections, and smashing biases
Embracing a Person-First Perspective in the Hybrid Workplace
In the new hybrid reality, leaders must adopt a person-first perspective and focus on strengthening human connections, embracing empathy, and fostering a sense of belonging among employees. By addressing proximity bias, leveraging technology, and building in-groups, organizations can unlock the full potential of their workforce and revolutionize the workplace for the better.
Summers empathized the importance of empathy and fostering connection within hybrid and remote teams. One of the challenges faced by organizations is habit change, where it's essential for leaders to take responsibility and create opportunities for their team members to feel connected.
The post-pandemic era presents a lot of change, turbulence, and uncertainty, making it vital for leaders to refocus on human-centric practices and break the cycle of mediocrity. To achieve this, leaders need to develop a common language to facilitate communication, recalibrate the "why" behind their actions, and prioritize listening to understand rather than merely listening to respond. Neuroplasticity, the brain's ability to reshape itself, plays a crucial role in adopting new habits and skills.
That's the focus of the NeuroLeadership Institute, a global organization dedicated to making organizations more human through the application of neuroscience research. They work with a majority of Fortune 100 companies, helping to develop leaders and transform organizational culture. By applying neuroscience research to leadership, they aim to facilitate better conversations, break biases, and create more inclusive environments. The ultimate goal is to rise to the challenge of changing leadership across every industry and organization and shift the focus from business outcomes to a balance between business and human-centric outcomes.
Conclusion
The post-pandemic era has brought about a significant shift in the way organizations function, particularly in the realm of hybrid and remote work. To navigate these changes successfully, leaders must prioritize empathy, foster connections, and embrace human-centric practices. By leveraging neuroscience research and focusing on building a common language, recalibrating the purpose behind their actions, and actively listening to understand, leaders can break the cycle of mediocrity and create more inclusive and connected environments. Ultimately, striking a balance between business outcomes and human-centric outcomes will be crucial in ensuring the long-term success and well-being of organizations and their employees.
Key Take-Away
In the hybrid work era, leaders must prioritize human connections, embrace empathy, and leverage neuroscience to redefine leadership for better performance and inclusive environments. Click To Tweet
Image credit: Christina Morillo/Pexels
---
Dr. Gleb Tsipursky was lauded as "Office Whisperer" and "Hybrid Expert" by The New York Times for helping leaders use hybrid work to improve retention and productivity while cutting costs. He serves as the CEO of the boutique future-of-work consultancy Disaster Avoidance Experts. Dr. Gleb wrote the first book on returning to the office and leading hybrid teams after the pandemic, his best-seller Returning to the Office and Leading Hybrid and Remote Teams: A Manual on Benchmarking to Best Practices for Competitive Advantage (Intentional Insights, 2021). He authored seven books in total, and is best know for his global bestseller, Never Go With Your Gut: How Pioneering Leaders Make the Best Decisions and Avoid Business Disasters (Career Press, 2019). His cutting-edge thought leadership was featured in over 650 articles and 550 interviews in Harvard Business Review, Forbes, Inc. Magazine, USA Today, CBS News, Fox News, Time, Business Insider, Fortune, and elsewhere. His writing was translated into Chinese, Korean, German, Russian, Polish, Spanish, French, and other languages. His expertise comes from over 20 years of consulting, coaching, and speaking and training for Fortune 500 companies from Aflac to Xerox. It also comes from over 15 years in academia as a behavioral scientist, with 8 years as a lecturer at UNC-Chapel Hill and 7 years as a professor at Ohio State. A proud Ukrainian American, Dr. Gleb lives in Columbus, Ohio. In his free time, he makes sure to spend abundant quality time with his wife to avoid his personal life turning into a disaster. Contact him at Gleb[at]DisasterAvoidanceExperts[dot]com, follow him on LinkedIn @dr-gleb-tsipursky, Twitter @gleb_tsipursky, Instagram @dr_gleb_tsipursky, Facebook @DrGlebTsipursky, Medium @dr_gleb_tsipursky, YouTube, and RSS, and get a free copy of the Assessment on Dangerous Judgment Errors in the Workplace by signing up for the free Wise Decision Maker Course at https://disasteravoidanceexperts.com/newsletter/.