Don't Let Others Control Your Life!
4

min read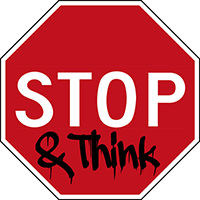 Back when I was in high school and through the first couple of years in college, I had a clear career goal.
I planned to become a medical doctor.
Why? Looking back at it, my career goal was a result of the encouragement and expectations from my family and friends.
My family emigrated from the Soviet Union when I was 10, and we spent the next few years living in poverty. I remember my parents' early jobs in America, my dad driving a bread delivery truck and my mom cleaning other people's houses. We couldn't afford nice things. I felt so ashamed in front of other kids for not being able to get that latest cool backpack or wear cool clothes – always on the margins, never fitting in. My parents encouraged me to become a medical doctor. They gave up successful professional careers when they moved to the US, and they worked long and hard to regain financial stability. It's no wonder that they wanted me to have a career that guaranteed a high income, stability, and prestige.
My friends also encouraged me to go into medicine. This was especially so with my best friend in high school, who also wanted to become a medical doctor. He wanted to have a prestigious job and make lots of money, which sounded like a good goal to have and reinforced my parents' advice. In addition, friendly competition was a big part of what my best friend and I did – whether arguing with each other about life questions or playing poker into the wee hours of the morning. Putting in long hours to ace the biochemistry exam and get a high score on the standardized test to get into medical school was just another way for us to show each other who was top dog. I still remember the thrill of finding out that I got the higher score on the standardized test. I had won!
As you can see, it was very easy for me to go along with what my friends and family encouraged me to do.
I was in my last year of college, working through the complicated and expensive process of applying to medical schools, when I came across an essay question that stopped in me in my tracks:
"Why do you want to be a medical doctor?"
The question stopped me in my tracks. Why did I want to be a medical doctor? Well, it's what everyone around me wanted me to do. It was what my family wanted me to do. It was what my friends encouraged me to do. It would mean getting a lot of money. It would be a very safe career. It would be prestigious. So it was the right thing for me to do. Wasn't it?
Well, maybe it wasn't.
I realized that I never really stopped and thought about what I wanted to do with my life. My career is how I would spend much of my time every week for many, many years, but I never considered what kind of work I would actually want to do, not to mention whether I would want to do the work that's involved in being a medical doctor. As a medical doctor, I would work long and sleepless hours, spend my time around the sick and dying, and hold people's lives in my hands. Is that what I wanted to do?
There I was, sitting at the keyboard, staring at the blank Word document with that essay question at the top. Why did I want to be a medical doctor? I didn't have a good answer to that question.
My mind was racing, my thoughts were jumbled. What should I do? I decided to talk to someone I could trust, so I called my girlfriend to help me deal with my mini-life crisis. She was very supportive, as I thought she would be. She told me I shouldn't do what others thought I should do, but think about what would make me happy. More important than making money, she said, is having a lifestyle you enjoy, and that lifestyle can be had for much less than I might think.
Her words provided a valuable outside perspective for me. By the end of our conversation, I realized that I had no interest in doing the job of a medical doctor. And that if I continued down the path I was on, I would be miserable in my career, doing it just for the money and prestige. I realized that I was on the medical school track because others I trust – my parents and my friends – told me it was a good idea so many times that I believed it was true, regardless of whether it was actually a good thing for me to do.
Why did this happen?
I later learned that I found myself in this situation in part because of a common thinking error which scientists call the mere-exposure effect. This term refer to our brain's tendency to believe something is true and good just because we are familiar with it, regardless of whether that something is actually true and good.
Since I learned about the mere-exposure effect, I am much more suspicious of any beliefs I have that are frequently repeated by others around me, and go the extra mile to evaluate whether they are true and good for me. This means I can gain agency and intentionally take actions that help me toward my long-term goals.
So what happened next?
After my big realization about medical school and the conversation with my girlfriend, I took some time to think about my actual long-term goals. What did I – not someone else – want to do with my life? What kind of a career did I want to have? Where did I want to go?
I was always passionate about how people, especially groups, made decisions in historical and contemporary settings. In grade school I got in trouble for reading history books under my desk when the teacher talked about math. As a teenager, I stayed up until 3am reading books about World War II. Even when I was on the medical school track in college I double-majored in history and biology, with history my love and joy. However, I never seriously considered going into studying decision making professionally. Academia is not a field where one can make much money or have great job security, it seemed to me.
After considering my options and preferences, I decided that money and security mattered less than a profession that would be genuinely satisfying and meaningful. What's the point of making a million bucks if I'm miserable doing it, I thought to myself. I chose a long-term goal that I thought would make me happy, as opposed to simply being in line with the expectations of my parents and friends. So I decided to become a history professor, focusing on studying historical and contemporary decision making.
My decision led to some big challenges with those close to me. My parents were very upset to learn that I no longer wanted to go to medical school. They really tore into me, telling me I would never be well off or have job security. Also, it wasn't easy to tell my friends that I decided to become a history professor instead of a medical doctor. My best friend even jokingly asked if I was willing to trade grades on the standardized medical school exam, since I wasn't going to use my score. Not to mention how painful it was to accept that I wasted so much time and effort to prepare for medical school only to realize that it was not the right choice for me. I really I wish this was something I realized earlier, not in my last year of college.
3 steps to prevent this from happening to you:
If you want to avoid finding yourself in a situation like this, here are 3 steps you can take:
Stop and think about your life purpose and your long-term goals. Write these down on a piece of paper.
Now review your thoughts, and see whether you may be excessively influenced by messages you get from your family, friends, or the media. If so, pay special attention and make sure that these goals are also aligned with what you want for yourself. Answer the following question: if you did not have any of those influences, what would you put down for your own life purpose and long-term goals? Recognize that your life is yours, not theirs, and you should live whatever life you choose for yourself. This approach is part of a broader strategy of dealing with common thinking errors by considering alternatives, which research shows is a very effective way for avoiding thinking errors such as the mere-exposure effect.
Review your answers and revise them as needed every 3 months. Avoid being attached to your previous goals. Remember, you change throughout your life, and your goals and preferences change with you. Don't be afraid to let go of the past, and welcome the current you with arms wide open.
—
Bio: Dr. Gleb Tsipursky empowers you to avoid business disasters as CEO of the boutique consulting and training firm Disaster Avoidance Experts. He is a best-selling author of several well-known books, including Never Go With Your Gut: How Pioneering Leaders Make the Best Decisions and Avoid Business Disasters and The Truth Seeker's Handbook: A Science-Based Guide. Tsipursky's cutting-edge thought leadership was featured in over 400 articles and 350 interviews in Fast Company, CBS News, Time, Scientific American, Psychology Today, Inc. Magazine, and elsewhere. His expertise stems from his background of over 20 years of consulting, coaching, speaking, and training experience across North America, Europe, and Australia. It also comes from his strong research and teaching background in behavioral economics and neuroscience with over 15 years in academia, including 7 years as a professor at the Ohio State University, with dozens of peer-reviewed academic publications. Contact him at Gleb[at]DisasterAvoidanceExperts[dot]com, follow him on Twitter@gleb_tsipursky, on Instagram@dr_gleb_tsipursky, on FacebookDrGlebTsipursky, and on LinkedInDr. Gleb Tsipursky. Most importantly, help yourself avoid disasters by getting a free copy of the Assessment on Dangerous Judgment Errors in the Workplace by registering for his Wise Decision Maker Course.