Winning Customer Service Through AI and Automation in Hybrid Work Environments
3

min read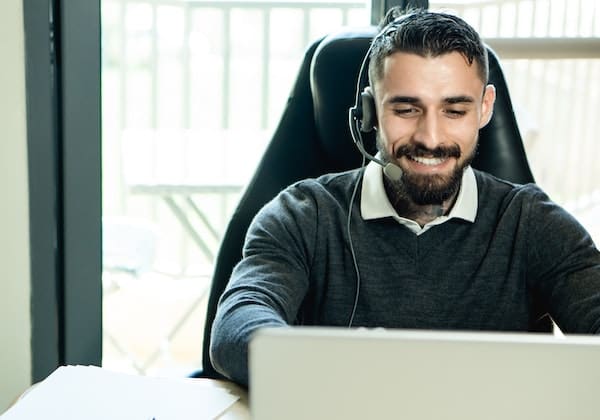 We're all living in a world of rapid change. The way we work has been fundamentally altered by the COVID-19 pandemic, and many businesses have had to adapt to hybrid and remote work models. In my recent interview with Brenda Bown, CMO of Service Cloud at Salesforce, we discussed how customer service automation and AI plays a vital role in this new era of work.
Automation: The Secret Sauce for Flexibility and Retention
In a tight labor market, offering flexibility can be an effective way to retain top talent, even if it means paying them a little less. Automation, especially as enabled by AI, enables employees to be more productive in their work, which in turn increases their satisfaction. Bown shared examples of how companies like GE Appliances and ADT have successfully harnessed automation to drive cost savings, deliver faster customer support, and increase agent productivity.
GE Appliances, for instance, managed to swap transactional experiences for service-oriented ones that continued to build customer trust and consistency across every touchpoint. By freeing customer service agents from repetitive tasks, the company cut its average handle time by 12%. Meanwhile, ADT leveraged automation and intelligence to move 40% of its service appointments and truck rolls to virtual, saving both time and resources.
These examples demonstrate how businesses can remain productive in a virtual or hybrid setting while simultaneously benefiting the company's bottom line.
Meeting Customers Where They Are: Adapting Automation for Remote and Hybrid Settings
Automation doesn't just benefit employees; it also has a significant impact on customers who work in remote and hybrid settings. Automation allows businesses to tailor their processes according to customers' needs, creating seamless experiences regardless of where they are.
With service at the heart of customer experiences, it is crucial to put customers at the center and connect their experiences across all channels. Automation plays a pivotal role in this, helping businesses meet their customers' needs at every touchpoint, from acquisition to maintenance.
Bown mentioned scheduling appointments as a prime example. Automating this process frees up employees to focus on improving the overall customer experience, regardless of whether they work from home or in the office.
In the case of contact centers, for instance, automation has made it possible for agents to work from various locations without compromising service quality. This diversification allows businesses to meet their customers' needs more effectively, regardless of whether they are working from a traditional office or a remote setting.
A Shift to Scale Strategy: Balancing High-touch and Low-touch Interactions
In the realm of customer service, companies must balance high-touch interactions (such as in-person technician visits) with low-touch or no-touch interactions (like engaging with a chatbot). Automation helps strike this balance, enabling organizations to scale their operations without compromising the quality of customer engagement.
As Bown points out, the key is to automate repetitive tasks that don't require specialization, so employees can focus on high-value engagements. This not only keeps employees happy but also allows companies to harness the potential of their technology investments.
Trust and Accountability: The Cornerstones of Hybrid Work Success
As we move further into the hybrid work era, trust and accountability are more important than ever. Employers need to trust their employees, and employees must be held accountable for their work, even when they're not in the office. Automation can help with this, providing businesses with the tools to monitor and measure employee performance effectively.
A Microsoft survey found that over 80% of bosses have difficulty trusting hybrid employees. This highlights the need for businesses to focus on building trust and fostering a culture of accountability. Automation can be a valuable tool in this process, ensuring that everyone stays on track and delivers results.
Collaboration and Communication in a Hybrid World
Effective collaboration and communication are essential for a successful hybrid work environment. Automation can help facilitate this by streamlining processes and providing real-time data that allows teams to work together more efficiently. For example, project management tools with automated features can keep team members informed and engaged, reducing the chances of miscommunication and delays.
Additionally, AI-powered chatbots can provide support, answering questions and directing employees to relevant resources, thus fostering a culture of continuous learning and knowledge sharing. By automating these processes, businesses can ensure that their employees have access to the information and tools they need to perform their jobs effectively.
Preparing for the Future of Work
As the future of work continues to evolve, it's crucial for businesses to stay ahead of the curve and adapt to new ways of working. Automation will undoubtedly play a significant role in shaping the hybrid and remote work landscape, and businesses must be prepared to harness its potential.
To do so, companies should invest in the right technologies and strategies that support automation, such as AI, machine learning, and analytics. By aligning these investments with their overall business goals, organizations can ensure that they are well-positioned to thrive in the new world of work.
Conclusion
The alchemy of automation in hybrid and remote work is a powerful force that enables businesses to adapt to the ever-changing landscape of work. By embracing automation and integrating it into their daily operations, companies can drive efficiency, increase employee satisfaction, and ultimately, deliver better customer experiences.
As the future of work continues to unfold, it's crucial for businesses to stay agile and prepared to embrace new technologies and strategies. By harnessing the power of automation, companies can not only thrive in the hybrid and remote work era but also ensure their long-term success in an increasingly competitive market.
Key Take-Away
Embrace automation and AI for exceptional customer service in hybrid work environments. Boost productivity, tailor experiences, and stay ahead in a changing landscape. Click To Tweet
Image credit: Olha Ruskykh/Pexels
---
Dr. Gleb Tsipursky was lauded as "Office Whisperer" and "Hybrid Expert" by The New York Times for helping leaders use hybrid work to improve retention and productivity while cutting costs. He serves as the CEO of the boutique future-of-work consultancy Disaster Avoidance Experts. Dr. Gleb wrote the first book on returning to the office and leading hybrid teams after the pandemic, his best-seller Returning to the Office and Leading Hybrid and Remote Teams: A Manual on Benchmarking to Best Practices for Competitive Advantage (Intentional Insights, 2021). He authored seven books in total, and is best know for his global bestseller, Never Go With Your Gut: How Pioneering Leaders Make the Best Decisions and Avoid Business Disasters (Career Press, 2019). His cutting-edge thought leadership was featured in over 650 articles and 550 interviews in Harvard Business Review, Forbes, Inc. Magazine, USA Today, CBS News, Fox News, Time, Business Insider, Fortune, and elsewhere. His writing was translated into Chinese, Korean, German, Russian, Polish, Spanish, French, and other languages. His expertise comes from over 20 years of consulting, coaching, and speaking and training for Fortune 500 companies from Aflac to Xerox. It also comes from over 15 years in academia as a behavioral scientist, with 8 years as a lecturer at UNC-Chapel Hill and 7 years as a professor at Ohio State. A proud Ukrainian American, Dr. Gleb lives in Columbus, Ohio. In his free time, he makes sure to spend abundant quality time with his wife to avoid his personal life turning into a disaster. Contact him at Gleb[at]DisasterAvoidanceExperts[dot]com, follow him on LinkedIn @dr-gleb-tsipursky, Twitter @gleb_tsipursky, Instagram @dr_gleb_tsipursky, Facebook @DrGlebTsipursky, Medium @dr_gleb_tsipursky, YouTube, and RSS, and get a free copy of the Assessment on Dangerous Judgment Errors in the Workplace by signing up for the free Wise Decision Maker Course at https://disasteravoidanceexperts.com/newsletter/.